Small Vacuum Cleaners
Small vacuum cleaners, otherwise known as handheld vacuums, are a practical and effective way to maintain a clean home or office. These small appliances are ideal for quick clean-ups and spot cleaning because they can quickly reach confined areas, corners, and cracks. Read More…
Small Vacuum Cleaners
Small vacuum cleaners are industrial vacuum cleaners that are used for collection of dirt, debris or other waste materials on a small scale.
Small vacuum cleaners come in a wide variety of designs. However, they all work on the same basic premise: they employ a fan to produce negative pressure, trap the dirt they've sucked up, and then purify the exhaust air before releasing it.
Principle of Operation of a Small Vacuum Cleaner
The simplest way to understand how a vacuum might collect junk is to think of it as a straw. When one drinks through a straw, a negative air pressure is created inside the straw. The ambient pressure outside the straw is lower than this pressure. As in space movies, where a hole in the spaceship's hull sucks passengers into space, a vacuum cleaner internally creates a negative pressure that encourages air to flow into it.
Components of a Small Vacuum Cleaner
Electric Motor
Vacuum cleaner manufacturers use an electric motor to spin a fan that pulls in air and any small particles it might contain before forcing it out the other side into a canister or bag to produce negative pressure. One may predict that it would cease to function after a brief amount of time because there is only so much air one can squeeze into a small space. Therefore, these vacuums feature an exhaust outlet that releases the air out the other side to resolve this issue and maintain the motor operating normally.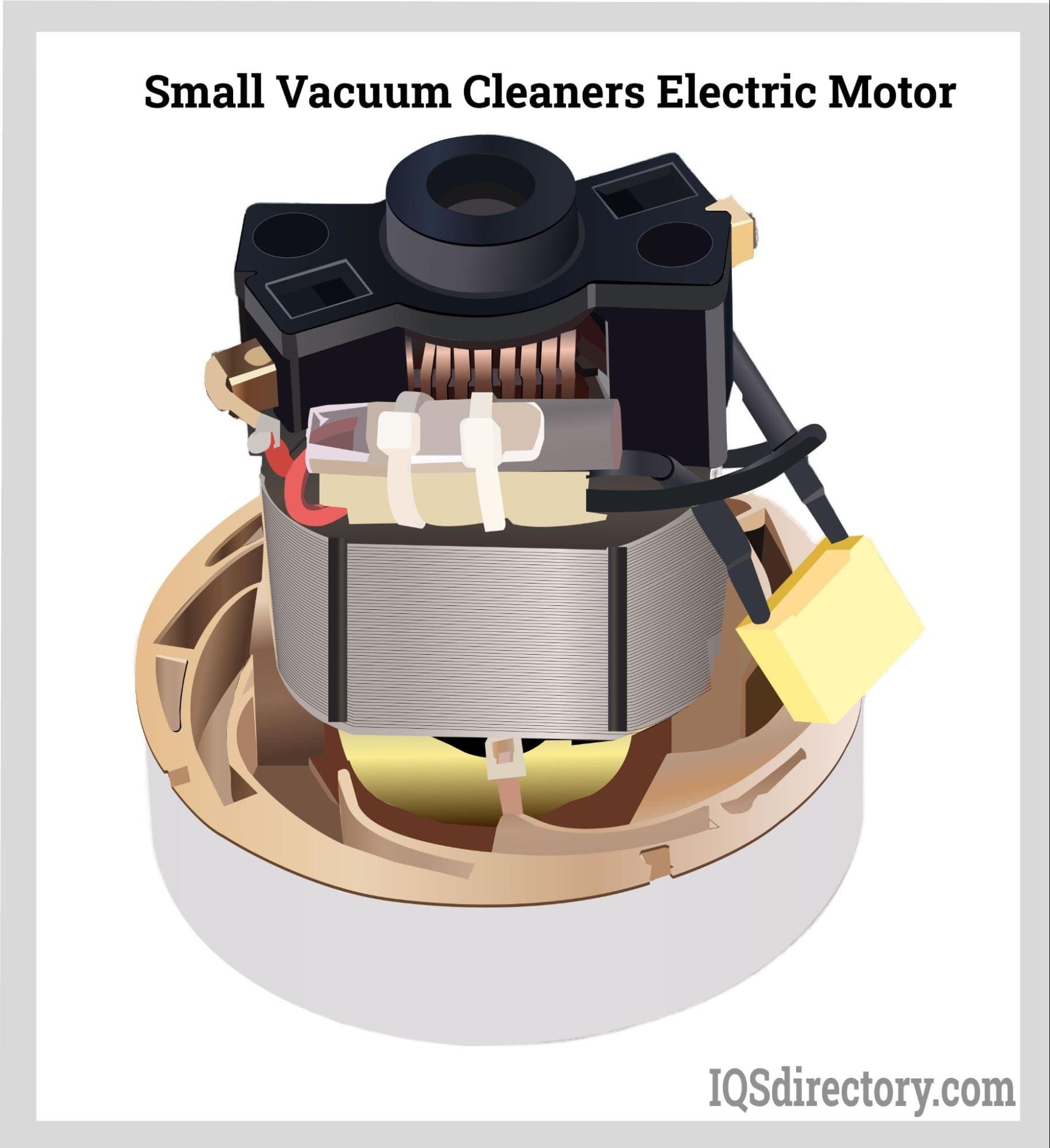 Filter
The air does not just flow through and emerge from the other side of a small vacuum cleaner. That would seriously injure the people using the vacuum. In addition to the filth and grime, a vacuum also gathers extremely small particles virtually undetectable to the naked eye. If inhaled in quantities high enough, they can damage the lungs. The vacuum cleaner uses at least one filter and frequently a HEPA (High-Efficiency Particulate Arresting) filter to remove nearly all of the dust because the bag or canister does not catch these dust particles. As a result of this filter, the air can only now be safely breathed again.
Attachments
A vacuum cleaner's power is controlled not only by the strength of its motor but also by the size of the intake port, which is responsible for sucking up dirt. More suction power is produced when the intake size is smaller because the air must flow more quickly to squeeze through a narrower path. This design is why vacuum cleaner attachments with narrower ports have stronger suction than ones with wider ports.
Benefits of Small Vacuum Cleaners
The mobility of tiny vacuum cleaners is one of their key benefits. They are ideal for cleaning stairs, furniture, and cars because they are lightweight and simple to move around. They can also be conveniently stored, taking up little room, in a closet, or under a bed.
The adaptability of compact vacuum cleaners is another benefit. Many versions include attachments including crevice tools, dusting brushes, and upholstery tools that let one clean various surfaces and problems like spilled cereal or shattered glass Some models even come with specific attachments for cleaning pet hair.
Despite their diminutive size, many little vacuum cleaners are powerful enough to clean carpets and hard floors thoroughly. Certain versions use cyclonic technology to separate dirt and debris from the air to keep the filter clean and to maintain suction force.
It's crucial to consider cleaning requirements when selecting a compact vacuum cleaner. For instance, if one has pets, one might select a model made specifically to remove pet hair. Also, choose a type with a high-efficiency filter to trap tiny particles if some have allergies.
The battery life is another vital consideration. Some manufacturers' compact vacuum cleaners are cordless, which increases their portability but may necessitate more regular recharges. To ensure that the vacuum cleaner will satisfy the demands, verify the battery life.
Small vacuum cleaner costs vary significantly depending on the manufacturer. While more sophisticated devices can cost several hundred dollars, some basic variants can be bought for as little as $20. The secret is to pick a vacuum cleaner that suits the cleaning requirements and budget.
Conclusion
In conclusion, using a compact vacuum cleaner is a practical and effective approach to maintaining a clean home or office. Small vacuum cleaners are a great option if you are searching for a quick and simple solution to clean up after dogs or a strong and portable tool for spot cleaning. They are lightweight, adaptable, and strong enough to thoroughly clean various surfaces. One may choose a model that matches their budget and fulfills the cleaning demands because they are available in various types and pricing ranges. Remember to consider the cleaning requirements, battery life, and accessories when selecting a small vacuum cleaner.
Choosing the Correct Small Vacuum Cleaner Company
To make sure you have the most beneficial outcome when purchasing small vacuum cleaners from a small vacuum cleaner company, it is important to compare at least 4 companies using our small vacuum cleaner directory. Each small vacuum cleaner company has a business profile page that highlights their areas of experience and capabilities and a contact form to directly communicate with the company for more information or request a quote. Review each small vacuum cleaner company website using our proprietary website previewer to get an idea of what each company specializes in, and then use our simple RFQ form to contact multiple small vacuum cleaner companies with the same form.
Small Vacuum Cleaners Informational Video